DHF Bi-met™ BT&P is a bimetallic (2-layer metal) product where the pipe (base material ) is thermal-spray coated with a nickel – base self fluxing alloy lining that provides excellent corrosion and wear resistance.
DHF's core technology—high frequency induction heating—is employed in the re-melting (fusing) process after applying a thermal spray coating. Our diffusion bonding process and pore-less and slug-less dependable coated lining allows us to offer our customers high quality products with high adhesion strength.
Our products are ideal for use on boilers in biomass power plant, waste incineration power plants, coal-fired power plants, CDQ furnaces, and similar facilities.
Our products can be installed in generating tubes, ceiling tubes, furnace water-cooled walls, super-heater tubes, in-bed tubes, and similar units.
Characteristics
Highly reliable quality: diffusion bonding between the base material and coated lining eliminates peeling or corrosion.
(IH processing results in high consistency, reproducibility, and high bonding strength of lining.)
Highly flexible to respond to customer needs

① Optimum coating design: of optimally engineered (for maximum cost performance) coating as required (material, thickness) depending on service conditions, installation location, target service life, and other factors.
② Installable in a wide variety of plants and units: the tube bending process enables products to be fabricated in various shapes as required.
③ Safety and reliability: Minimized risk of accidents, operation problems and unscheduled downtime from abnormal wear and abnormal corrosion.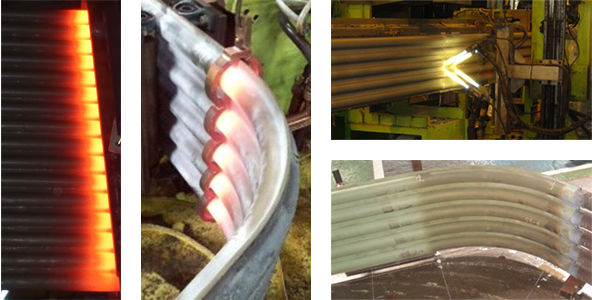 Some examples of DHF Bi-met™ Boiler Tube and Panel
Thermal power plant boilers of a major electric utility
Fluidized bed type boilers in a biomass power plant
Heat recovery boilers of a CDQ furnace at a steel mill
Boilers in water-wall panels at urban waste and industrial waste incineration plants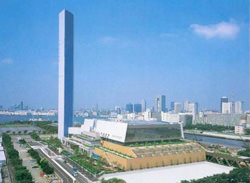 Products installed in waste incineration plants in Taiwan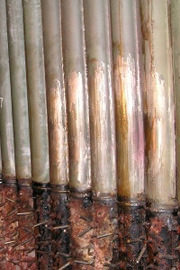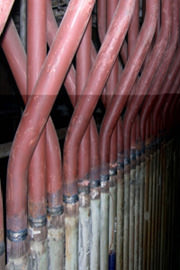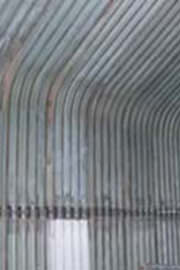 Evaluation of DHF Bi-met™ BT&P
DHF Bi-met BT&P products have been commercially available for about 20 years.
Our customers in Japan, and in Taiwan and praise our products for the following reasons :
Reduction of maintenance costs realized by successfully extending the service life of furnace water-walls;
Making final installation easier and quicker by minimizing distortion of pipes and panels caused by direct flame heating used in traditional method (Bi-met™ method uses induction heating)
Extended life span – very little thinning of furnace wall tube lining, even after 10 years of use.
Product specifications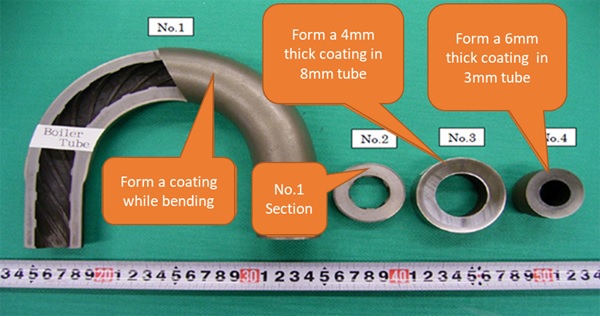 Lining materials

SW1600, SW1631, SW1641: Ni-base Self Fluxing alloy
Lining thickness

0.5 mm - 2.0 mm in practical applications
Tube (steel) size

32A - 125A (single tube)
Panel size

Tube outer diameter: φ31.8 or over
Panel width: 550 mm (maximum)
Product length

Max 10,000 mm (10 meters)
Bending R / angle

Tube: 1.5 DR or over, 180°(maximum)
Panel: 350 R or over, 90°(maximum)
The specifications may vary depending on such relevant conditions as the tube thickness.
Please contact us regarding any dimensions or specifications not provided above.