High reliability, quality and simplicity; T-head method rebar are forged by hot pressing induction heating
Does not require special materials; Can be used on all rebar.
Easy to install: Greatly reduces need for manual labor.
Improved concrete pouring; less dense/more open rebar arrangement compared to traditional hook-end rebar means concrete can easily and evenly fill forms.
Excellent fatigue performance and low-temperature tensile performance
In order to solve such problems as the difficulty of arranging rebar with standard hooks due to the higher density of rebar resulting from Faced with more stringent and seismic safety reguirements, problems associated with pouring concrete into forms crowded with hook-end rebar and the difficulties of bending high strength and large diameter rebar, we have developed a revolutionary "T-head method" for fixing rebar.
"T-head method" has been widely adopted because it has the effect of saving labor by streamlining reinforcement arrangement, improving construction quality, and shortening construction time.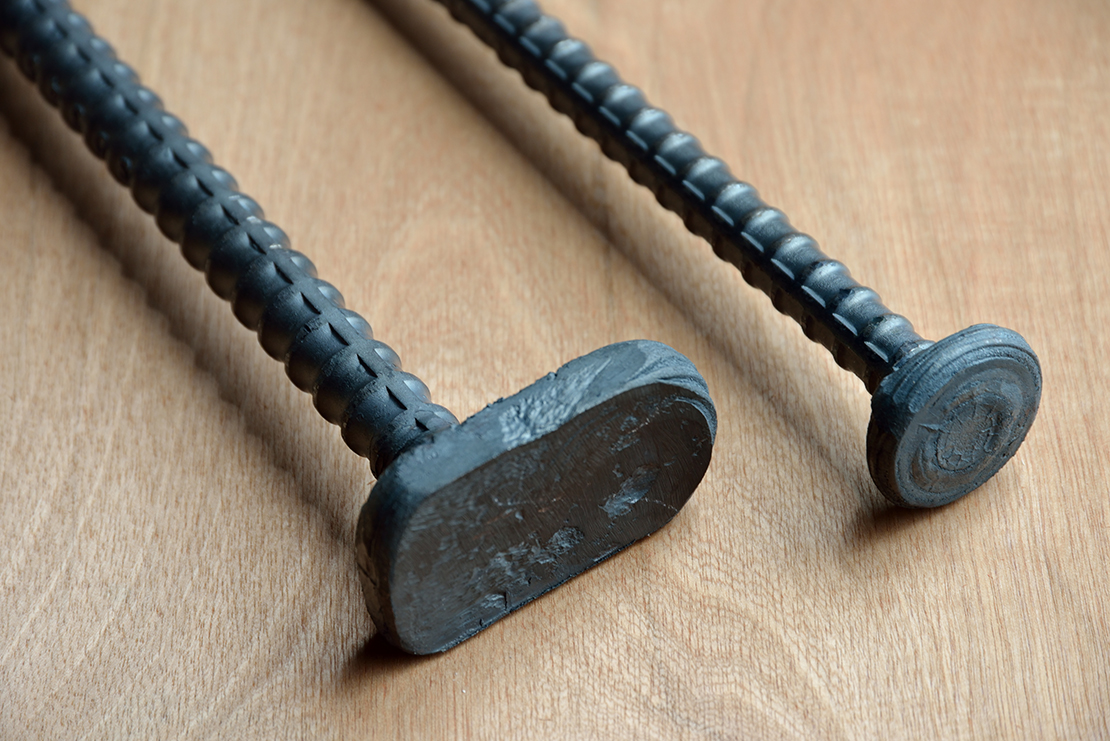 Production process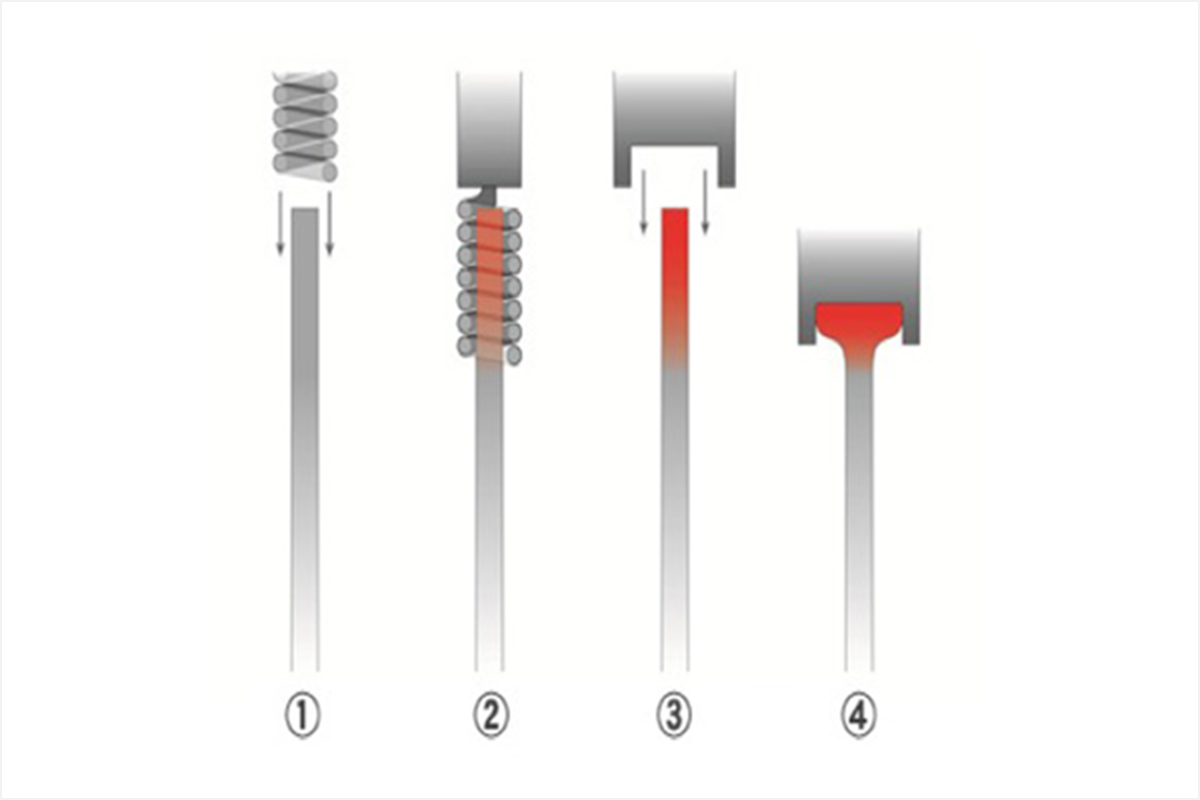 Induction heating coils are set at the ends of the rebar.
The ends of the rebar are heated using high-frequency induction heating.
A mold is pressed against the end of the heated rebar.
Integral molding is completed
Dimension of enlarged diameter portion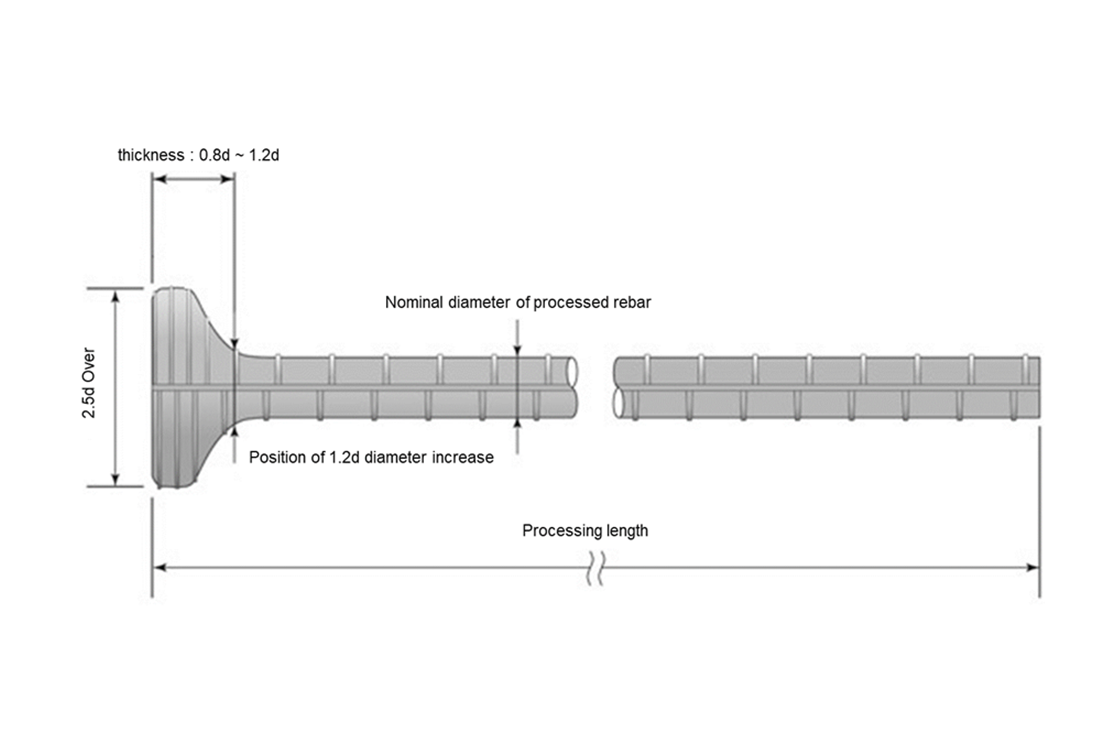 Diameter of enlarged diameter: 2.5mm d or more, Thickness: 0.8 to 1.2mm *d = Nominal diameter
TH machining length and calculation method of supplied reinforcement material
(TH = T head rebar reinforcement)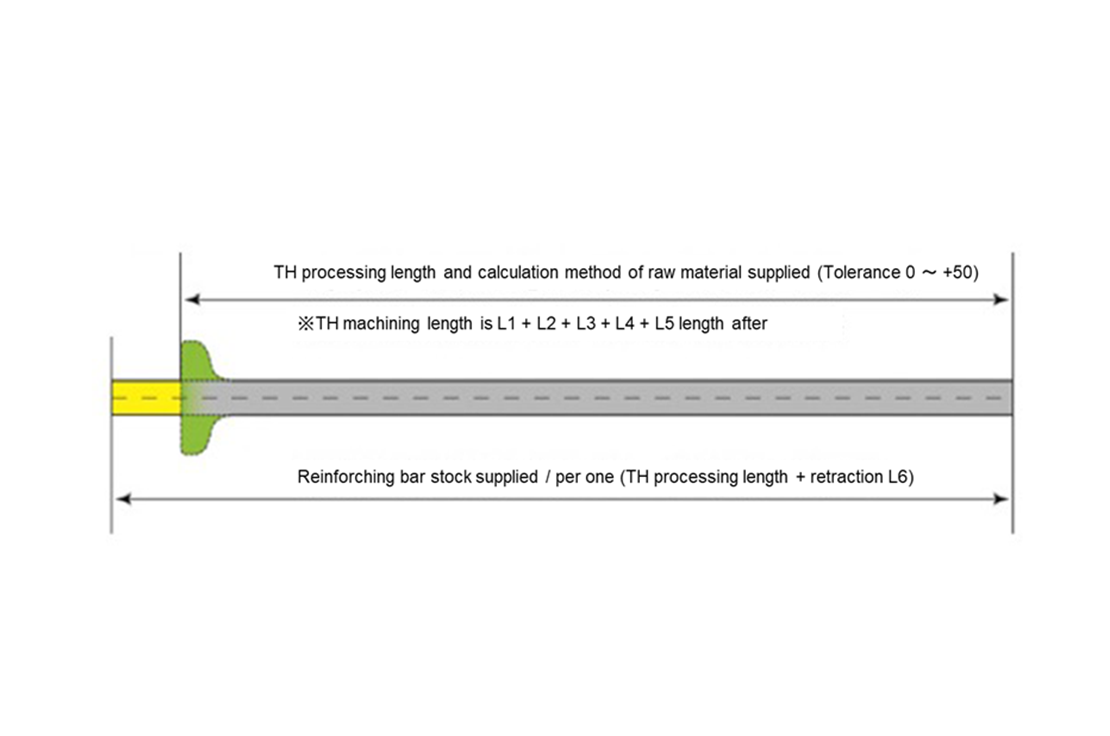 Length of unshaped rebar is determined by DHF using customer's construction requirement.
Normally, bending of rebar for angle pieces is not done by DHF. Bending will be done by the customer after TH processing.
After TH processing, bending processing at the supplier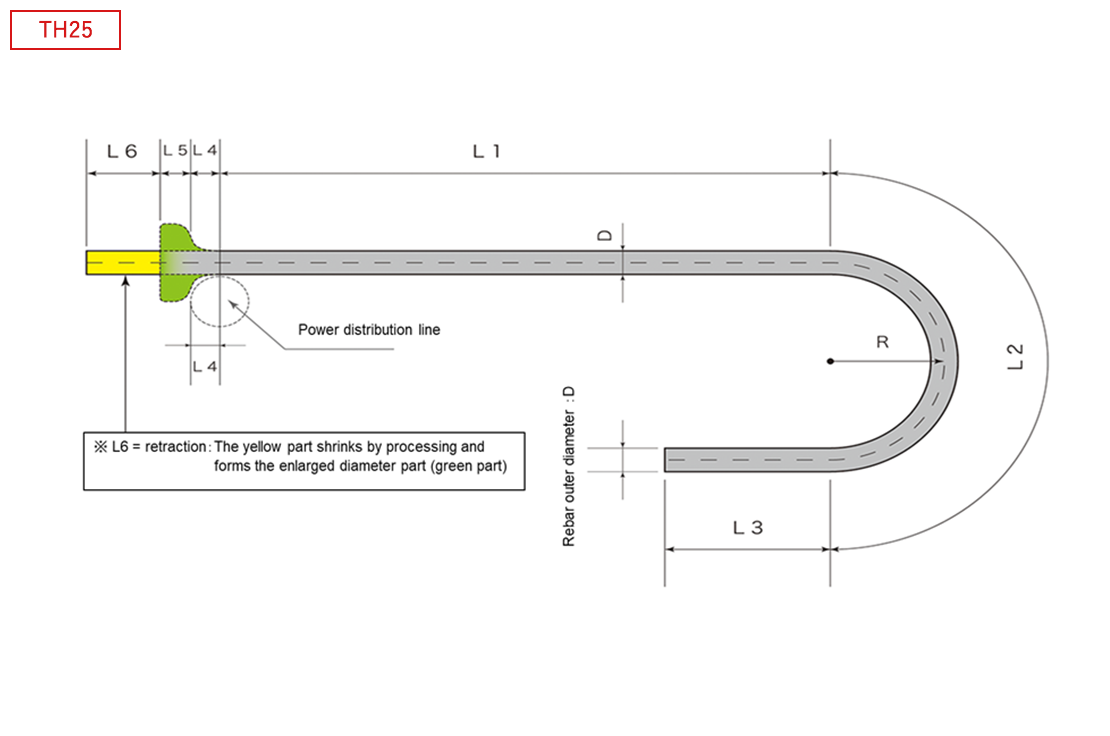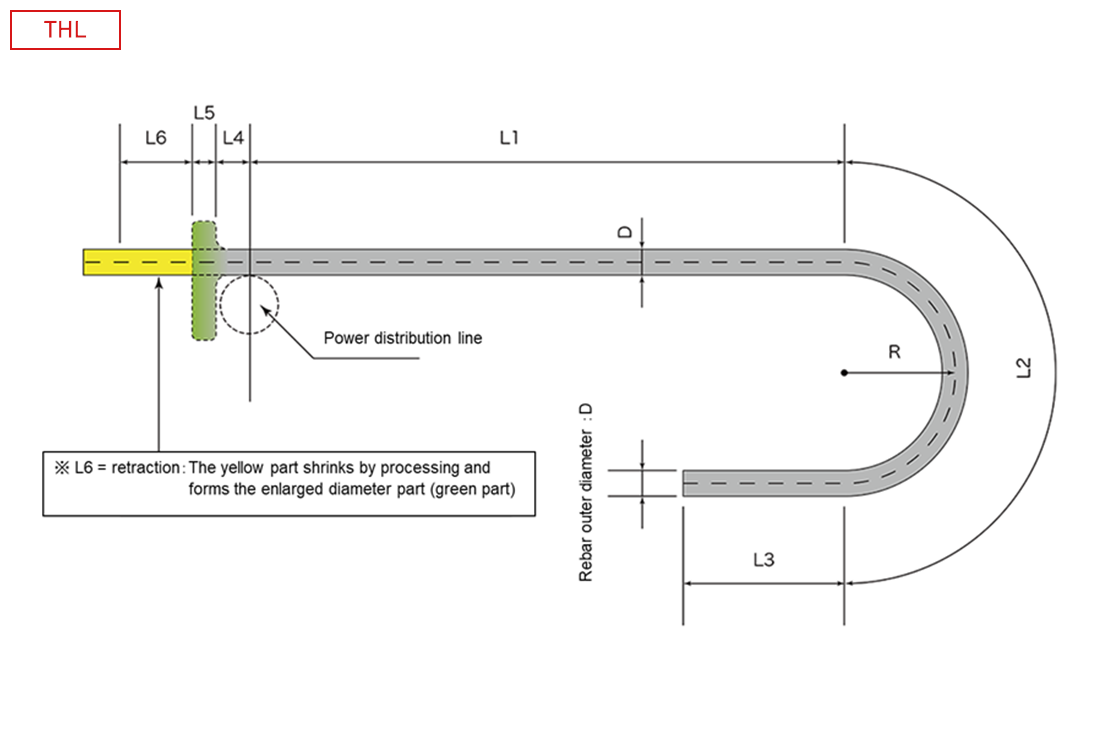 Fixing principle
T-head rebar reinforcement (bearing resistance)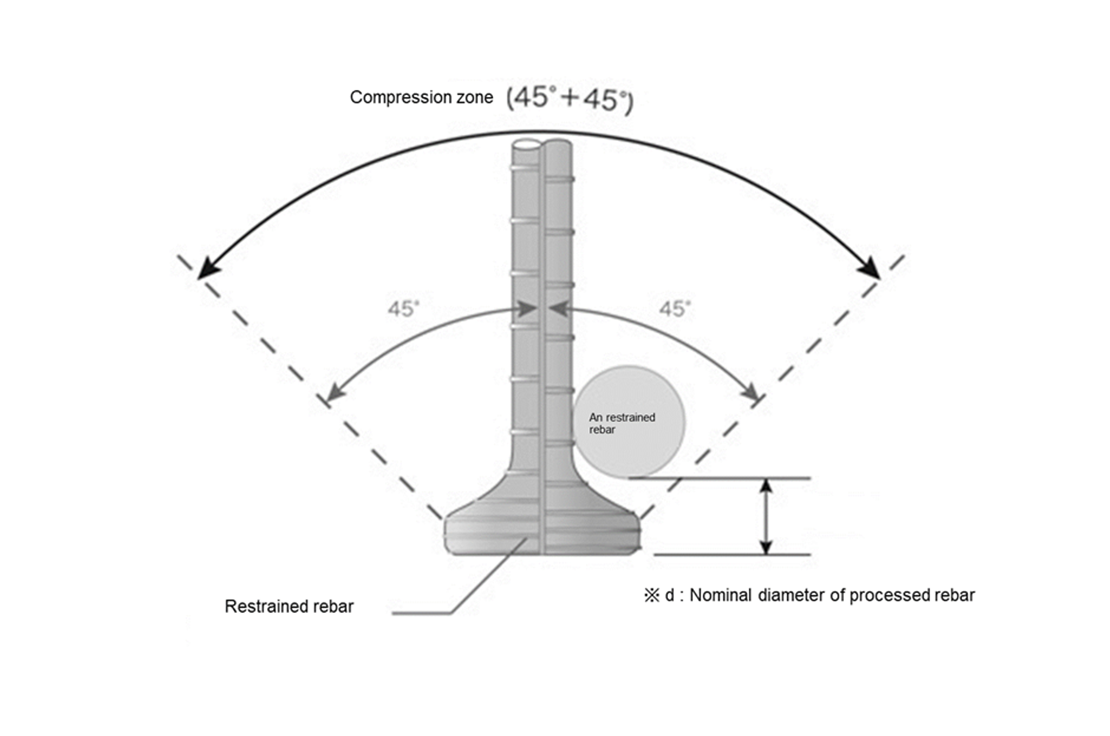 In the compression area (90 degrees) of concrete, the fixing performance against the pulling stress and the restraining force on the restrained reinforcement act.